Join us for a 60-minute webinar with live Q & A on Tuesday, February 7th at 2:00 PM ET/1:00 PM CT/11:00 AM PT.
Tune in as Paul Bosnyak, Oriental Motor Application Engineer, discusses how production can be improved through modular automation from concept to design and application. The webinar will illustrate how modular automation can help boost overall production efficiency by increasing flexibility, saving space, and conserving energy, over traditional production processes.
When you attend this webinar, you will learn:
Concept of Modular Automation

Purpose
Benefits
Applications

Modular Automation Product Features
OM Solutions
Webinar Speakers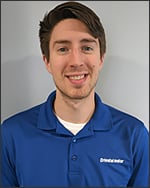 Paul Bosnyak
Application Engineer
Not sure if you can attend?
Register anyway. We will e-mail you a link to the on-demand video when it becomes available.