Join us for a 60-minute webinar with live Q & A on Tuesday, June 13th at 2:00 PM ET/1:00 PM CT/11:00 AM PT.

Oriental Motor offers for free download, a feature rich motion control support software, used with a wide family of stored data motion control motor drivers that can save time and money from the R&D phase, to troubleshooting to machines assembly. Tune in as Paul Bosnyak, Oriental Motor Application Engineer, discusses in this 1 hour webinar and learn what the MEXE02 Support Software is capable of, how it makes motion profile design easier and motion application product examples it supports.

When you attend this webinar, you will learn:

How to easily set & test motion parameters for R&D testing, including motion profile and motor monitoring
How to easily copy set programs into the stored data drivers for I/O usage in manufacturing
How to take the programing burden off of your PLC / Master Controller
Webinar Speakers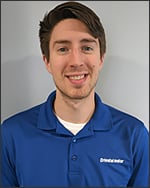 Paul Bosnyak
Application Engineer
Not sure if you can attend?
Register anyway. We will e-mail you a link to the on-demand video when it becomes available.